Exhibit: Boys in Blue
November 11– January 31, 2017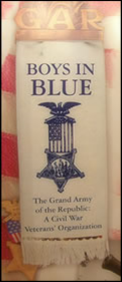 A year after our nation's Civil War ended, an organization for Union veterans was established. The Grand Army of the Republic (G.A.R.) became a fraternal order that limited membership to men who served the Union from 1861-1865. Reaching approximately one million members this fraternity stretched across local, state, and national lines.
Though there was only one  county resident, William Duley of the Shetek settlement, who served in the military at that time, many of the early settlers who moved to the region were military veterans. Murray County was home to two G.A.R. posts, the Logan Post of Slayton and the Zachary Taylor Post of Fulda, and at least one Women's Relief Corps.
This exhibit is a traveling exhibit originating from the Old Courthouse Museum in Sioux Falls but will include artifacts and stories from our own county. The exhibit will highlight  the legacy of this important group that set the precedent for future veteran's organizations.