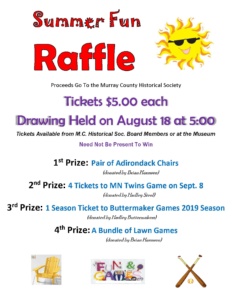 Murray County Historical Society Summer Fun-Raiser! Win Twins Tickets or a Cedar Patio Set!
The Murray County Historical Society is holding a Summer Fun-raiser Raffle. Tickets are $5.00 each and can be purchased anytime during open hours at the Murray County Museum, End O Line Park, and from any Historical Society board member.  Tickets will also be sold during the Fair at the Slayton Boat Display on the south end of the Museum on the Fairgrounds. The Summer Fun Raffle has several exciting prizes. First Prize is a five-piece set of Cedar Patio Furniture handmade and donated by Brain Harmsen, Second prize is four tickets to the Twins vs Royals game on September 8th  donated by Hadley Steel. Third prize is a 2019 season ticket to the Hadley Buttermakers games donated by the Hadley Buttermakers. Fourth prize is a yard game assortment including yard dice, bean bag game, Pickle ball set, and other games donated by the Historical Society.
This fundraiser will raise dollars for new exhibits, programs like the Lunchbox Lecture Series and special collections care needs like archival photograph boxes. If you want to purchase tickets please call 507-836-6533 or stop by the Museum or End O Line.