Check out the following links on Mnopedia – A great source of information about significant people, places, events and things in Minnesota history.   These specific links shared below feature Murray County History.
Click on the photos below for more information about each subject.
---

The first Murray County Fair was held in 1880. From 1884 through 1898 there were rival fairs, one in Currie and one in Slayton. Each claimed to be the official county fair, but both were discontinued at the turn of the century. In 1912 the Murray County Fair returned and has been held annually (with two exceptions) since that year.
---
Anna Sheerin Lowe became Minnesota's first female sheriff when the Murray County Commissioners appointed her to fill her husband's unexpired term in 1923. Faced with the difficulty of enforcing Prohibition laws, Lowe fulfilled her duties as sheriff and won the respect and gratitude of the community for her three years of service.
---

In 1881, John Sweetman brought forty-three immigrant families to farms near Currie and established the Sweetman Catholic Colony. Another nineteen families joined the colony in 1882, but two unseasonably wet growing seasons made farming difficult. By the end of 1882, half of the colonists had abandoned their farms and left the colony.
---
In August 1900, rail service to the community of Currie began with the completion of the Chicago, St. Paul, Minneapolis and Omaha branch line from Bingham Lake. A hand-operated turntable was built the following year, expanded in 1922, and used until the advent of diesel locomotives in the 1950s. In 1972, a local 4-H club restored the historic turntable and preserved Currie's railroad heritage through the creation of the End-O-Line Railroad Park & Museum.
---
Murray County was established in 1857 and formally organized in 1872. Although Currie was the original county seat, the city of Slayton won a contentious battle for that title in 1890. Agricultural production has been (and continues to be in the twenty-first century) the county's primary industry.  Read more…
---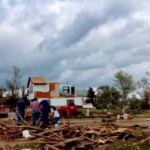 On June 16, 1992, an F5 tornado devastated the towns of Chandler and Lake Wilson in Murray County. It was the most powerful tornado recorded in the US that year and the eighth F5 to touch down in Minnesota, reaching wind speeds in excess of 260 miles per hour and causing over $50 million in property damage. It was one of 170 twisters that hit the Northern Great Plains during the June 1992 tornado outbreak, one of the largest such outbreaks in US history.  Read more…