The Murray County Historical Society is excited to announce this season's lineup of Dinehart Front Porch Music Series concerts. The concerts are free and open to everyone. Bring your own blanket or lawn chair. Free refreshments will be available. Each concert begins at 7pm and features the following performances:
Thursday July 22: Kordal Kombat: a local barbershop and acapella group with national appearances.
Thursday July 29: The Skally Line: an acoustic folk group specializing in historical music.
Thursday Aug. 5: StarFire: a 1950s and 1960s Rock and Roll cover band.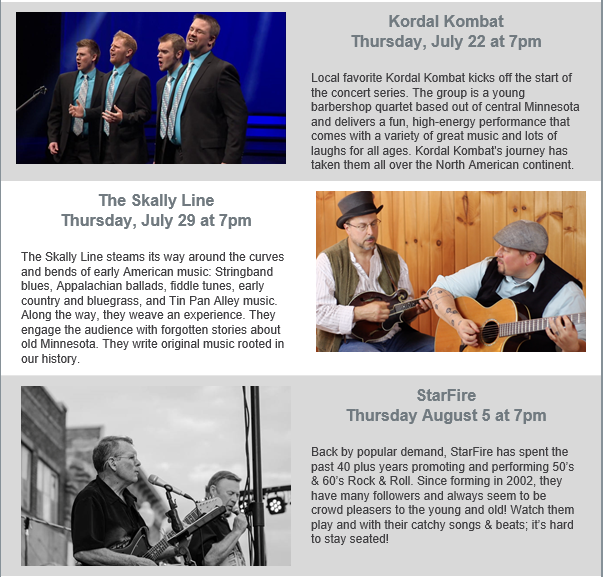 All concerts will take place at the historic Dinehart Holt House in Slayton, which was built in 1891 by Christopher Dinehart. His wife, Flora Dinehart, is believed to have owned the first piano in the county. Local lore told that on summer evenings, people would stop along the sidewalk in front of the house to listen to Flora play the piano and hear music drifting from the parlor windows.
Funding for these concerts has been provided through a Arts Projects Grant by the Southwest Minnesota Arts Council. Funds for this grant were appropriated from the Minnesota Arts and Cultural Heritage Fund made possible by the Minnesota Clean Water, Land, and Legacy Amendment voted on by the citizens of Minnesota in 2008. The Southwest Minnesota Arts Council (SMAC) is a nonprofit organization committed to promoting and encouraging the development of the arts in the 18 counties of southwestern Minnesota. For more information about the SMAC and its grant programs, visit swmnarts.org.
For any questions, contact the Murray County Historical Museum in Slayton at 507-836-6533, museum@co.murray.mn.us or historicmurray.org.